How often do you go out to libraries or bookstores to check out some new books? If you don't have time to visit these places, then why not try reading from the comfort of your home? There are plenty of ways to get access to ebooks for free.
There are several websites that offer free ebooks. Some of these sites include Project Gutenberg, Google Books, Amazon Kindle, and Apple iBooks. These websites provide access to millions of titles, ranging from classics to modern fiction.
You can also download apps such as Overdrive, Hoopla, and Libby to read ebooks. All you need to do is register for an account and select the books you want to read. Once downloaded, you can start reading immediately.
Start By Getting a Library Card
If you don't already have a library card, sign up for one at your local library. You will likely need to make an in-person visit for the card to be long-lasting.
Many libraries will allow you to sign up for a non-verified library card that is good for 6 months.
The library card may come with a PIN number that you must enter when checking out books. It's important to note that many libraries require you to return any books within 21 days.
The best part about having a library card is that once you have it and it's verified you can borrow ebooks and movies for free. And since technology will automatically return the items when they are due, you'll never have to deal with late fines.
Download the App Compatible with Your Local Library
If you live near a public library, you can check out ebooks at any time. Most libraries offer a variety of ebooks, including classics, fiction, nonfiction, and audiobooks.
You simply need to download the app your library works with to browse through the catalog and find what you're looking for, making it perfect for the avid reader.
Most library apps work like most other apps. They will ask you to create an account and verify your identity (via your library card and PIN). After that, you can search for books using keywords or by browsing categories.
Once you've found the book you want, you can either read it online or even have it sent to a device like a Kindle.
Once you finish reading the book, you can log back into your app and return the book early, so the next person in line can enjoy. Or if you need more time you can see about renewing the book to keep it longer.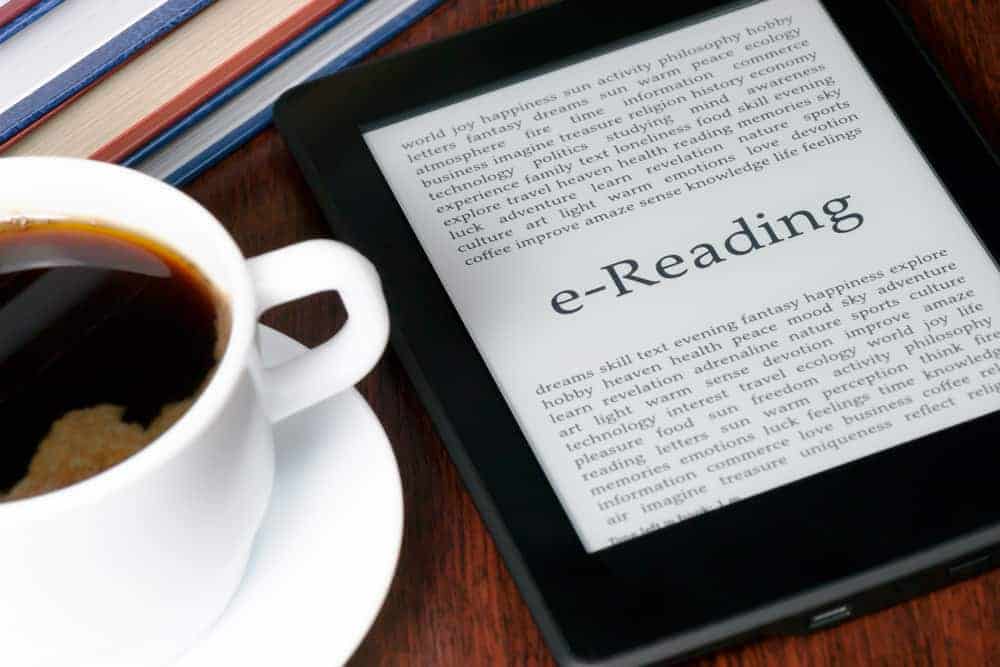 You Can Get Audio Books Too
If you prefer listening to books rather than reading them, most libraries offer audiobooks that you can access in the app, just like ebooks.
Allowing you to listen to books on the go, letting you renew or return them as needed, and automatically returning them after a set period of time.
What Are the Best Ebook Readers?
Now that we know how to read books for free, let's take a look at some of the best ebook readers available.
Kindle Paperwhite
This is probably the best choice for people who love to read but still want something portable. With its large screen, easy navigation, and lightweight, this reader makes it easy to carry around wherever you go.
Amazon has made this model very affordable, making it accessible to everyone. In fact, you can get it for $79.99.
iPad
Another popular option is the iPad. This tablet comes with a 7″ display that allows you to read comfortably while sitting down or standing up.
It also offers plenty of storage space, allowing you to store hundreds of books and magazines.
Nook eReader
While not quite as popular as the Kindle, it does offer a lot of features that make it ideal for those who love to read.
For example, the Nook lets you change fonts, adjust margins, and turn pages easily. You can also use it as a standalone device or sync it with your phone to read anywhere you go.
Frequently Asked Questions
Do you still have questions about how to read books for free and the best devices to use? We've answered the most common questions below.
How do I get books on my iPad?
If you're looking for a simple solution, Amazon's Kindle app is free and works well on most devices. It has a library of ebooks available for download, but you'll need to pay per book. Another option is Google Play Books which offers unlimited access to its collection of ebooks for $9.99/month. Apple users will find iBooks available on all iOS devices.
Can you read books for free on Apple Books?
Yes! If you're an iPhone user, you can download the app and start reading right away.
What's the best app for reading books on iPad?
iBooks is Apple's e-book reader for iOS devices like iPhone, iPod touch, and iPad. It lets you sync your purchased books across all your devices so you can read them anywhere at any time. And because it's built into the operating system, you won't need to download anything else.
Alternatively, the Kindle app, can be downloaded to your iPad for purchases of ebooks from Amazon.
Where can I read books for free other than a library?
If you're looking for a place where you can read books without paying anything, then you should check out one of the many online libraries available. Some of them include Project Gutenberg, Google Books, Archive.org, and Open Library.
What is the best app to read unlimited eBooks?
If you're looking for something a little different, try using a service like Kindle Unlimited. This service allows you to borrow unlimited books from Amazon's library for $9.99 per month. You can cancel anytime without any penalties.
What is the best app to read free eBooks?
If you're looking for a reading app that's easy to use, has a wide selection of books available, and doesn't require any special equipment, then Kindle is one of the best options. It's available for both Android and iOS devices, which means you can download it onto your phone or tablet, and it can work offline so you won't need an internet connection to read.
Can I buy a Kindle and get only free books?
Yes! Amazon has made it easy to download ebooks directly onto your device, while they have tons of books available, only a small selection are available for free.
If you want to read more, you might consider getting a Kindle Unlimited Subscription. f you're interested, check out this link to try Kindle Unlimted free for 30 days.
Bottom Line
If you're looking to save money with your book habit, you may want to look into utilizing your local library or signing up for a service like Kindle Unlimited. With these services, you can read thousands of books for free or at a low monthly cost, and you never have to worry about running out of books.