I just got back from D.C. and it was a fantastic trip. The best part? The total cost of my D.C. on a budget trip? $253.06
Total for the Trip = $253.06
Here is the breakdown:
Gifts for Others: $43.61
I picked up some stocking stuffers (yes, I buy stocking stuffers in February) and birthday gifts.
Gifts for Me: $1.01
I am on a no spend kick, however, I did indulge by getting a pressed penny. I've collected them for as long as I can remember, so I couldn't resist this little souvenir.
Fun: $9.00
There are so many free things to do and see in DC and on this trip, I did several of them. I also went and saw a movie which is where the nine dollars comes from. I know, I know going on vacation to an amazing city and then choosing to go to a movie.
It was a vacation and my number one priority was to enjoy myself. Since the theater was showing the Theory of Everything and the theaters around home were no longer showing it, and I'd really wanted to see it, I did.
As for the free activities? I went inside the Washington Monument, visited the Holocaust museum, the National Portrait Gallery, American Art Gallery, Navy Memorial, and the United State Supreme Court. Total cost= $0.00.
Food: $84.34
Being out and about all day meant eating out too. Overall, I averaged about $26 a day, which was a tad above my goal, but in the grand scheme of things wasn't too bad.
Lodging: $0.00
My friend was nice enough to let me stay with them for the duration of the trip, and even let me impose an extra night when my flight was canceled. Hooray for great friends!
Metro: $24.10
Staying with a friend meant I was staying in Bethesda and had to use the Metro to get to all the DC sites. The change in flight plans also meant that my friend couldn't take me to the airport and had to spend a little more on the metro than planned.
Parking: $80
Parking at the airport isn't cheap especially when you have to pay for an extra day at the airport. While the cost of parking by the shuttle and the cost of the shuttle ($43) is a lot less than the $80 I ended up paying, it was only $17 less than the planned $60 had my flight back had not been canceled. Not to mention the stress and time it saves me from having to wait for the bus and the extra driving.
Flight: $11.00
I had enough miles saved up for a round trip to DC, but sadly they wouldn't have been enough for a one way out to see my family, which is how this whole trip got started. However, even when using miles you are still required to pay a small fee.
Wrapping it Up with a Bow on Top
While I was fortunate to be able to avoid paying for a hotel. D.C. is one of the best places to vacation because of all the national museums and monuments that are free. It helped in keeping my entire trip including flight and airport parking to $253.06.
Even if you did have to get a hotel, you could save by staying a little outside the city and just taking the metro in, D.C. has a great metro system.
If you really wanted to save money, you could hit up a grocery store and pack meals for the day. Though there is some great food in D.C. so I definitely recommend you budget some for the good food.
View from the top of the Washington Monument: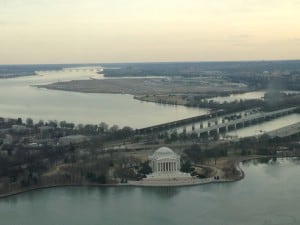 Returning to snowy Boston: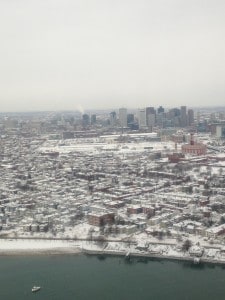 Related:
Paying Off Debt While Pursuing Big Crazy Dreams
It was a great trip to D.C. on a budget. So how do you manage a vacation on a budget? Let me know in the comments!
Looking for ways to save up for a trip? Qapital can help you reach savings goals. Once you have the Qapital App installed and a bank account (or in my case three) connected you set up a goal or goals. I currently have two, one to save for taxes #selfemployed and one to save for spending money when I travel hack my way to Paris. Then you set savings rules for each of your goals.
For example, I have a round up to the nearest $2 rule, a guilty spending rule -when I buy Dominos, and a savings rule for every time I hit my step goal with FitBit. There are tons of different savings rules you can set up and the best part is Qapital is free to use. Bonus, when you use my link you'll get $5 after your first savings.