I have always loved dogs (I even adopted a rescue a few months ago) but before I was able to adopt a puppy of my own I would get my dog fix by pet sitting. Pet sitting has always been one of my favorite side hustles. Getting paid to hang out with puppies?! Yes, please.
I mean, who could say no to this face?
I started pet sitting as a teenager and most of my pet sitting experience came from neighbors, family, and friends. However, years and better technology later and there is Rover.com. I signed up for it when I moved back to Massachusetts in 2012 and since then the site has expanded to other areas, including where I live now, North Carolina.
How it Works
Rover connects Pet owners and sitters/walkers through their website and app in exchange for 20% of the service fee. Once connected owners and sitters can easily set up a meet and greet before booking a service.
Then once the service is booked, payment is processed by Rover and the sitter can use the app to keep the owner updated. Rover also helps the sitter with 24/7 support including vet assistance.
Getting Started Pet Sitting with Rover.com
Rover.com is in line with other freelance gigs like Uber, Lyft, or Taskrabbit. You build an online profile and there is an app to help you communicate with pet owners.
When setting up your profile you can detail:
What services you provide (dog sitting, dog boarding, dog walking, drop in visits)
Distance you're willing travel
Rates (including holiday and puppy rates)
Experience
You can just offer dog walking services is you want. Similar to those other freelance gig apps you submit for a background check as part of your profile.
They Give You the Tools to Be Successful
They also provide you with all the tools you need to be successful including a prewritten craigslist post. You can make your availability known so that if you are unavailable one weekend you can just mark yourself unavailable and you won't get requests to dog sit.
You pick when you work. They also provide links to order business cards, links to share via social media, or email and referral bonus programs.
Communicating with Pet Owners
When a pet owner is interested in your services, they send you a message with some details on their pet and any questions they might have. You get notified that you have a message via a notification or text on your phone. You can then respond in the app or via text.
It makes it easy to book gigs or graciously turn them down if the particular gig doesn't work with your schedule.
If you are looking for a sitter you can use this Coupon Code: FNSPET20 to get $20 off your first stay.
Using the Rover App
When you've booked a service, it will show up in the App.
Both dog walking and drop in visits require you to use the app to complete the service via a Rover card. Dog boarding and dog sitting don't require yout o do Rover cards.
To complete the service booked, open the app and go to "Today" It will list the services you have scheduled that day. To get started, hit "Start"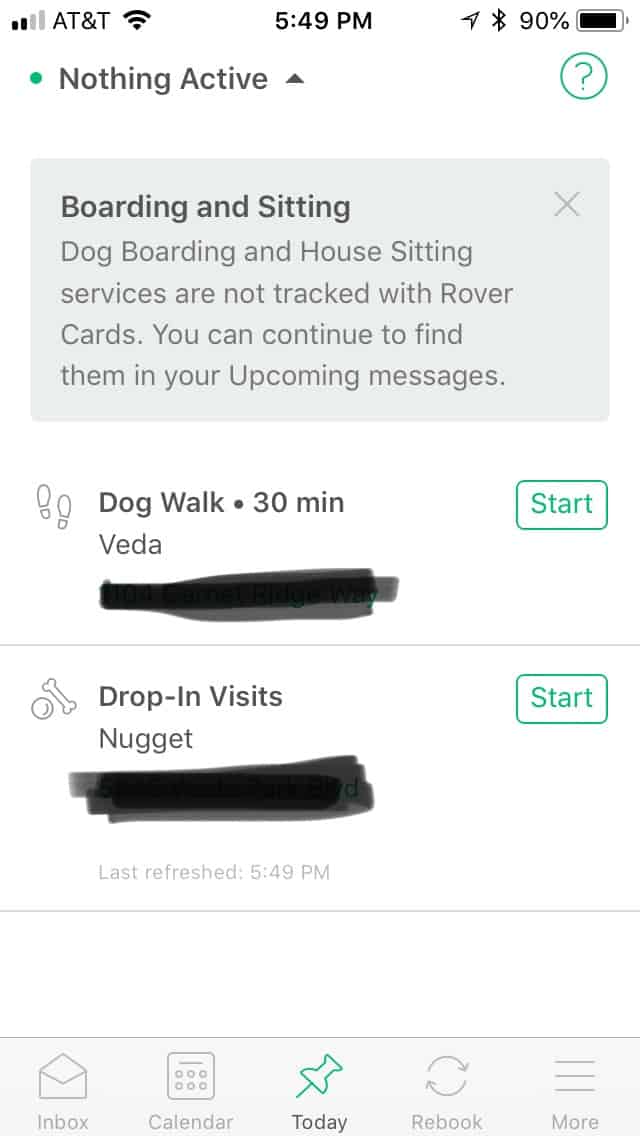 It will ask you if you're sure you want to start?, Hit "Yes, I'm Sure".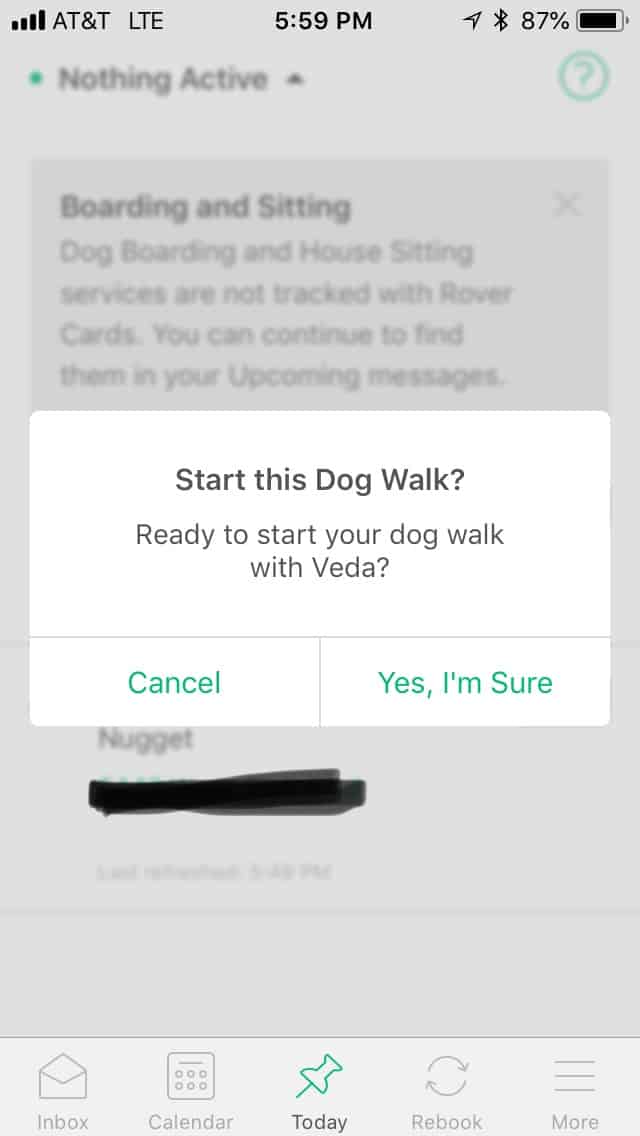 That will start the walk or drop in visit. For a dog walk it will ask to access you location (it sends the owner a map of the walk you took). You can also mark how often the dog does it's business and if you gave them food or water.
The minimum amount of time to walk a dog or drop in is 30 minutes, if you try to end sooner it will ask if that's really what you want to do. For dog walking the answer is usually no, you should do the full 30 minutes. If you're doing a drop in to take care of cats or a rabbit or something, the owner usually doesn't expect you to be there for 30 minutes.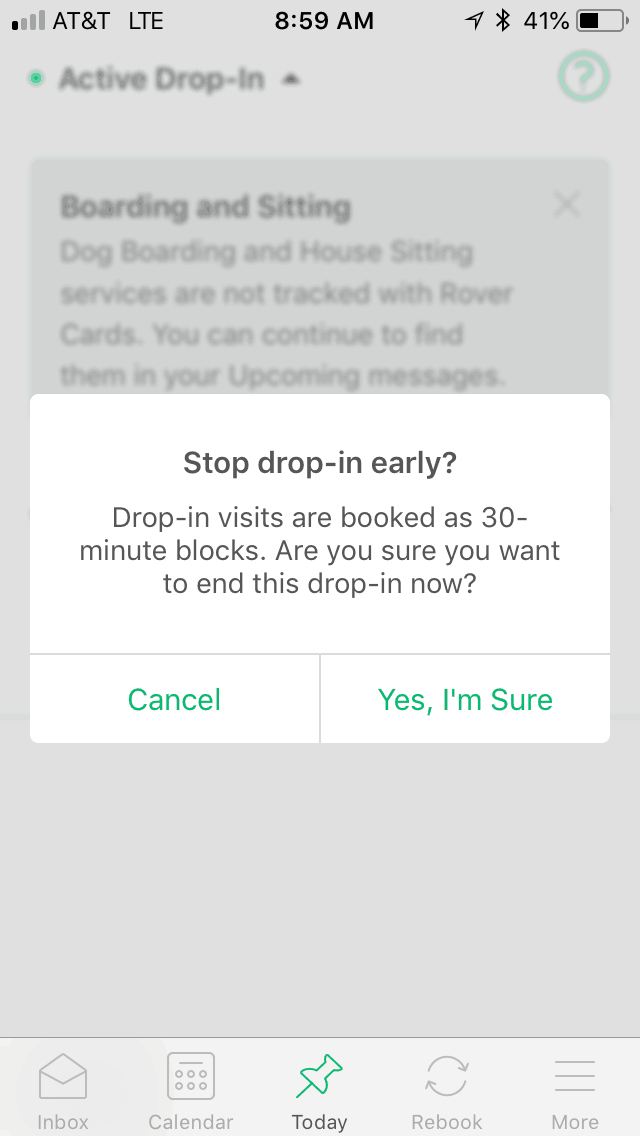 In order to finish a walk and close out the Rover card, you will need to include a picture of the pet. Just hit the camera icon and either take or select a picture to send.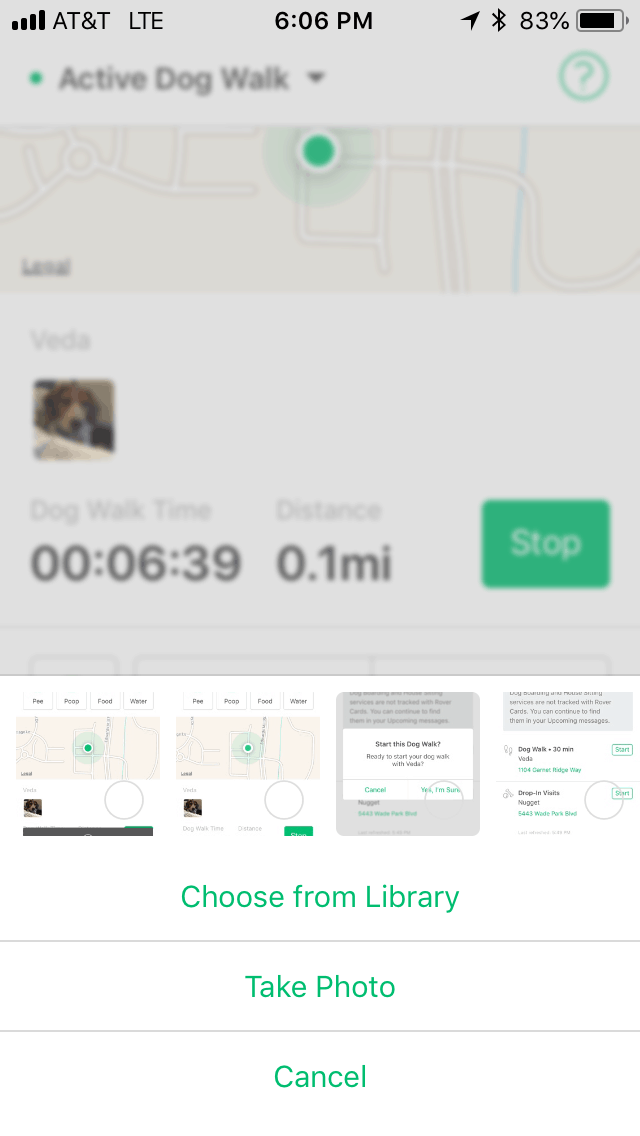 You can also add a note about the walk/pet. The Rover card will look like this, displaying a summary of the walk/drop in visit.
That's it! You're payment processes in a couple of days and you can withdraw at anytime to Paypal without any fees.
How Much I've Earned on Rover in 2018 (and how much you could earn)
Keeping in mind that I just do dog walking and drop in visits which are less lucrative than dog sitting or dog boarding, I've made a decent chunk of change walking dogs around lunch time.
Another thing to note, because I've been on the platform since 2012 I get to keep 85% of my earnings, making Rover's cut just 15%. New sitters, earn 80%.
January = $388.45
February = $575.45
March = $581.40
April = $336.60
May = $219.30
June = $234.60
July = $94.35
August to date = $112.2
Total through August = $2,542.35
(In the video you'll see $1,955 because it's not counting the credit/money I used to pay to dog sitters to have them take car of my dog)
You'll notice I earned less over the summer, since I just do dog walking and drop in visits and most people take vacation during summer they will usually board their dog, so my business goes down. But it's already starting to pick back up again.
On the flip side if you offer dog sitting and dog boarding services you can make even more during the summer.
If you are looking to become a sitter you can get started here.
Check out what it's like to use Rover with the video below.
Wrapping it Up with a Bow on Top
Rover makes it easy to get paid to hang out with dogs. Instead of having to plaster your neighborhood with flyers it helps dog owners find you and book you to hang out with their furry friends. I've used Rover both as a pet sitter and a pet owner and remain a fan. Get started pet sitting with Rover today!
Helpful Tools & Resources
[lasso ref="quickbooks-self-employed" id="11506″ link_id="253860″]