If you are in need of buying a car but don't have perfect credit, it's okay. Getting a car loan with bad credit and no down payment is not impossible. But it's also not easy. Here are some tips for those who need a little help when looking for financing.
1) Make sure you are organized before you start looking for financing. It might be time-consuming, but it will save you time in the long run.
2) Shop around – You'll get the best rate by shopping around and comparing rates offered by different lenders.
3) Apply for credit: If you want to get approved for a car loan, your credit score is going to be important so if you can, take steps now to improve your credit score before applying for any loans or getting pre-approved.
4) Determine what type of loan is right for you: A dealer or independent lender may offer more competitive rates or better terms.
Get Organized: What To Know Before You Start Looking For A Car Or Auto Loan
Before you apply for an auto loan, you should know the best time to shop for a car, the features you're looking for, and an idea of your budget.
Before looking at any cars (online or otherwise) make a list of the features you consider must have. And then also list those you'd like to have an any you want to avoid (leather seats in summer can be rough).
Before applying for an auto loan, be sure to do some research on how much you can afford to borrow and what types of loans are available based on your credit history and situation.
Lastly, you'll want to look at your budget and determine how much of a monthly payment you can afford.
The Best Time to Shop for a Car
Buying a car is not something taken lightly and it requires a lot of research. The "best time to shop" is arguably before the end of the year. Though this might seem counterintuitive, the reason is that new models are usually released in the fall months.
You'll also want to keep in mind that if you need a car urgently you may not have the luxury of waiting for the best time to buy. If you can wait then you should shop when the interest rates are low or when the economy is good.
Here are some additional tips if you want to be sure you get a good deal on your next car:
Keep your eyes peeled for any sales that come by, they are usually announced beforehand on TV or online
Know what features you want and don't want in your next car before going into the dealership
Know How Much Car Can You Afford
When you are ready to purchase a new vehicle, one of the first things that you will need to do is figure out what kind of car you can afford based on your financial situation. The answer to this question will change depending on your credit score and income level.
The first thing that you need to do is figure out how much money you want to spend on a monthly basis. This will also impact the loan term you want, the longer the loan, the lower the monthly payment.
The next step is figuring out the different types of cars that are available in your budget range.
There are many different types of cars to choose from, and it can be difficult to figure out which is the best for your needs. The first thing you will need to do is decide on a budget range, then narrow down your choices based on your list of must-have features and the long term cost of the vehicle such as fuel efficiency or average time on road.
You can find this information by looking at sites like Kelly Blue Book, online ads and pricing information as well as talking to dealerships.
Finally, when purchasing a vehicle it is important not just consider the total cost but also how much you will spend on fuel, parking, insurance, and maintenance.
Using Auto Loan Calculators To Figure Out How Much You Can Afford
Saving up for a car is not always easy. Auto loan calculators can be a valuable tool to figure out how much you can afford in terms of monthly payments and the total amount you can pay off in a certain period of time.
Auto loan calculators are different than taking out a calculator because they take into consideration your financing options, down payment, trade-in equity, and any other fees associated with the purchase and financing of your vehicle.
A good auto loan calculator will also include other factors that affect your monthly payments such as the interest rate on your car loan, length of term for the car loan, insurance costs and more.
Know What To Expect Given Your Credit Score
The table below contains the average interest rates by credit score.
The first thing to note is that your credit score influences the interest rate you will be offered. As your credit score goes up, the interest rate you're offered goes down. Whereas with a low credit score you'll see higher interest rates on loan options.
For example, a person with a low-credit score of 620 would be paying an average monthly payment of $577.90 per month while someone with a good credit score of 750 would only have to pay $403.60 per month in car payments for the same vehicle and loan term.

The Most Complete Look At Your Credit Anywhere.
FICO® Scores are used by 90% of top lenders. myFICO gives you instant online access to your FICO® Scores most widely used in mortgage, auto and credit card lending.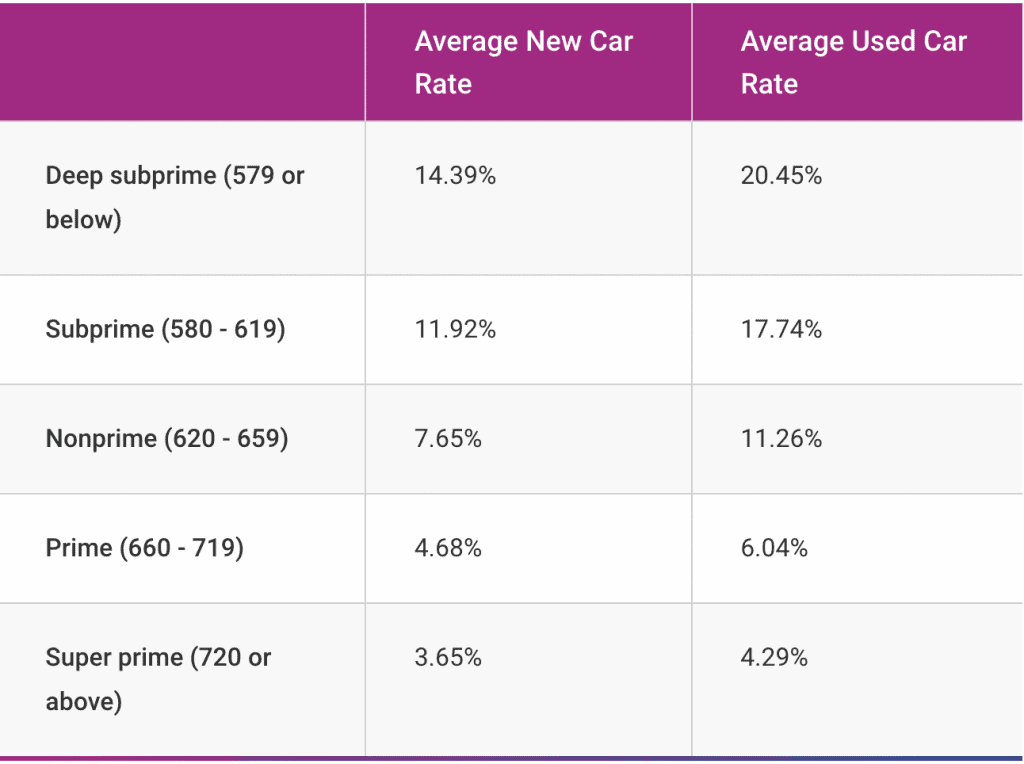 Source: https://www.experian.com/blogs/ask-experian/auto-loan-rates-by-credit-score/
Related: Is a Credit Score of 740 Good?
Get A Loan For Buying A New Vehicle Vs A Used Vehicle
Buying a new car is the easier route to go. You are able to avoid the hassles and problems that come with a used car.
The advantages of buying new vehicles include:
You have the assurance that all of the components work properly and are free from defect.
You won't be bothered by a used car's previous owner (e.g., they may have had an accident, etc.).
The warranty on your new vehicle will protect you against repair costs for up to 3 years or 36,000 miles, whichever comes first.
A new vehicle is more fuel-efficient than a used one because it has been built with newer technology and materials.
However, buying a used vehicle with a loan can be a great way to save money. Older cars usually cost less upfront but may require more maintenance sooner.
Keep in mind that because a new car is considered to be a more reliable vehicle, while the price tag may be higher the interest rates on loans are often lower for financing new vehicles rather than used cars.
Negotiate To Get The Best Price On The Vehicle
Just because there is a purchase price sticker on the car doesn't mean that's what you have to pay. Once you know what your budget is, do your research to know what you should be paying for the car. Sites like Kelly Blue Book, TruCar, or Edmonds can help you figure out the price you should be paying.
Then head to the dealership and start negotiating, here are some tips:
1) Know your budget and walk away if the dealership isn't meeting it.
2) Check to see if the vehicle is a good fit for your needs.
3) Ask for the price of the vehicle with all of the accessories and extra features that you might want, but don't need, this can give you a bit of wiggle room in negotiating.
How to Get an Auto Loans When You Have Bad Credit
Bad credit can be a major obstacle when getting an auto loan. If you're not sure what your credit score is, you can find out what your FICO score is for free using various tools or even from a credit card you may already have. If one of your credit cards doesn't provide you with your FICO score you can get it for free here.
Fortunately, even if you have a poor credit score, there are many ways to get around this problem and buy a car.
You should first make sure that your income is stable and you have a good employment history. It will also help if you can make a down payment on the car while also applying for financing through the dealership, your bank, or credit unions.
How Much To Put Down For An Auto Loans
The amount of money you put down on an auto loan can affect your monthly payments. The more you put down, the more affordable your monthly payments will be.
For example, if the car is worth $5,000 and you put 20% down or $1,000 then your monthly payment will be lower than if you had only put 5% down. Though the loan terms will also determine your monthly payment.
For example, someone that puts 20% down with a 3 year loan term might have the same monthly payment as someone who put 5% down with a 6 year loan term.
If you're not able to put any money down for your auto loan you'll likely need to look at getting an auto loan through companies that specifically market to those with credit issues. These auto lenders are sometimes referred to as subprime lenders. Though a search for "bad credit auto loans" will yield lots results from brick and mortar financial institutions to online lenders.
Average Loan Terms for Auto Loans
The average car loan term is 66 months or 5 and a half years in the United States. But 6 years is not uncommon for a loan term. And some financial institutions may even offer 96 month (8 year) loan terms.
Shop Around for Your Best Deal on an Auto Loan
When you are shopping for an auto loan, it is important to go with a company that provides the best rates. Don't just go with the first company to approve you for a loan. You may find better rates and more favorable terms elsewhere.
A good place to start looking for the best rate on an auto loan is with your bank or credit union. However, if this option doesn't work out for you, there are many places that will offer different rates and terms including car dealerships. You can find these companies online or through word of mouth from friends and family.
Getting An Auto Loan Through The Dealership
There are a number of benefits to getting an auto loan through the dealership vs. a bank.
Dealerships are usually able to offer a lower interest rate because they have lower overhead than banks and the risk is also much lower for them as they know their customers better. Additionally, dealerships often have more flexible terms than banks which can be helpful when it comes time to trade in your vehicle or if you need financing for a new car.
While buying from a dealer is usually the easiest way, many people looking to save money get an auto loan directly with a bank. There are some benefits of this approach. For one thing, lenders may offer lower interest rates than dealerships. They may also offer more flexible or longer repayment terms that could help you save on monthly payments.
Get Your Auto Financing Pre-Approved
It's simple to get your auto loan pre-approved. The first step is to decide which vehicle you're interested in. Next, you need to find a dealer that sells the make and model of car you want. After that, contact the dealer and tell them how much money you plan on borrowing, what type of financing you're looking for (i.e., new or used), and if there are any certain features that would be a must-have in your next vehicle purchase.
The dealership will then run through the numbers with you and see if they can find a loan that works for both parties involved. If they can't, it doesn't hurt to go back to them with an updated budget or some other additional information about what type of features you want.
Read the Fine Print on Auto Loan Offers
The fine print on auto loans is something that you need to read carefully before signing any document.
It's important to know, from the monthly payment to the interest rate, and length of the loan, the terms and conditions of the loan agreement so that you know what your obligations are. If you are not able to afford the monthly payment, then you should consider looking for a different auto loan offer.
It might sound like common sense, but don't forget to read the fine print before signing any documents when dealing with an auto loan offer. The best way to avoid issues is to get informed about all aspects of the contract and how it pertains to your personal finances before signing.
Bottom Line
When you are car shopping and looking for a car loan, you might be surprised by how many options you have even if you don't have a higher credit score.
When it comes to choosing which type of car loan to go with, your credit score is the most important factor. If your credit score is not great, then make sure you're doing your homework to get the best deal for the car you want and shop around for the right loan for you.
Other FAQs
How to buy a car with bad credit and no co-signer?
If you want to get a car loan with no cosigner the best way to try and get approved without one is to work with a Special Finance Dealership, or Subprime lender – those that market to people with poor credit.
What's the best way to get approved for a bad credit auto loan?
Making a bigger down payment reduces the amount you're asking to borrow, which helps your shot at an approval.
What are the best credit scores for auto loans?
Auto lenders use different credit scoring models, but credit bureau Experian breaks down scores this way:
781-850: Excellent
661-780: Good
601-660: Fair
500-600: Poor
300-499: Very Poor
Those with a credit score of 660 or higher receive the best new-car auto loan rates, 6.64% or better, on average.
How Often Should I Refinance a Car?
Refinancing a car can affect your credit score and draw out your debt, but there is no limit to how often you can refinance.
Should I Refinance?
If you have greatly improved your financial situation from when you purchased, it will often make sense to refinance to get a lower interest rate.
What credit score should you have to refinance with a Bad Credit Auto Refinance Lender?
Credit scores in the 500s are accepted by most.